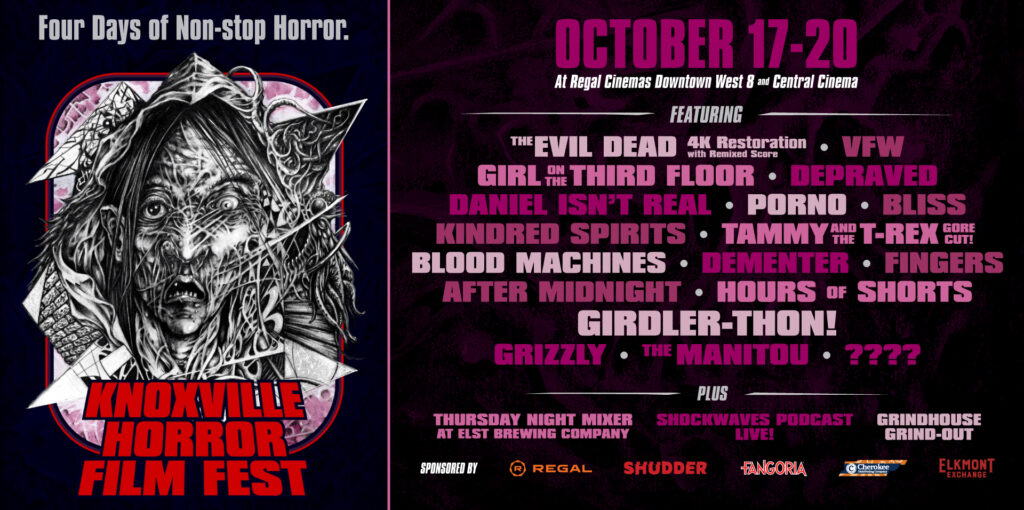 The Knoxville Horror Film Fest returns October 17-20, 2019 for its eleventh annual weekend of movie madness, using Central Cinema (1205 North Central St) as its home base and expanding to Regal Cinemas Downtown West 8 (1640 Downtown West Blvd) for a full day of screenings on Saturday. This year's festival is our biggest yet, showcasing 32 short films and 16 features plus a live podcast, filmmaker Q&As, live-scored silents and the films of our annual Grindhouse Grind-out filmmaking contest!
Our second round of advance ticket sales go live on Tuesday, October 1 at 9am… we have an extremely limited number of full Festival Passes ($120) remaining, as well as daily passes for Thursday ($25), Friday ($40), Saturday ($40) and Sunday ($30) and individual screening passes to Saturday's Regional Short Film Competition ($10), Evil Dead ($15) and the Grindhouse Grind-out ($15).

---

Thursday, October 17
Passholders are invited to meet us at Elst Brewing Company (2419 N Central St) for an informal mixer & badge pickup… then it's down the street to Central Cinema for KHFF's opening salvo: a triple-feature tribute to 70s cult filmmaker William Girdler, including his The Manitou, Grizzly and a very special surprise screening to close out the evening.
Friday, October 18
BLOCK 1 / BLOCK 2 / SHOCK WAVES / BLOCK 3 / BLOCK 4
Friday we get down to business with KHFF's Short Film & Feature Film competition programming, including features Fingers (with director Juan Ortiz in attendance), After Midnight (with co-director Christian Stella in attendance), Blood Machines and the R-Rated "Gore Cut" of Tammy & The T-Rex. We'll also be hosting the Shock Waves podcast crew, including a live podcast session and their infamously challenging Dead Right Horror Trivia.
Saturday, October 19
BLOCK 5 / BLOCK 6 / BLOCK 7 / BLOCK 8 / BLOCK 9
REGIONAL SHORT FILM COMPETITION
Saturday is KHFF's biggest day ever! Our mainline programming moves over to Regal Downtown West 8 for some of this year's biggest titles, including Kindred Spirits, Daniel Isn't Real, Porno, Evil Dead 4K and the films of the 2019 KHFF Grindhouse Grind-out! Back at Central Cinema, we've got exclusive you-can't-see-this-anywhere-else programming including our regional & local short film competition and the Knoxferatu silent film event, featuring live film scores set to 1922's Häxan and a selection of witchy short films… and at the end of the right we'll all get back together for the Karaoke Barada Nikto afterparty!
Sunday, October 20
BLOCK 10 / BLOCK 11 / BLOCK 12 / BLOCK 13 / BLOCK 14
We wrap up this year's festival with Sunday's home stretch of competition blocks, including features Girl On The Third Floor, Dementer (with director Chad Crawford Kinkle in attendance), Bliss, VFW and Depraved, plus the 2019 KHFF Awards Ceremony!
---

[mp-timetable title="1″ time="1″ increment="0.5″ text_align_vertical="middle"]