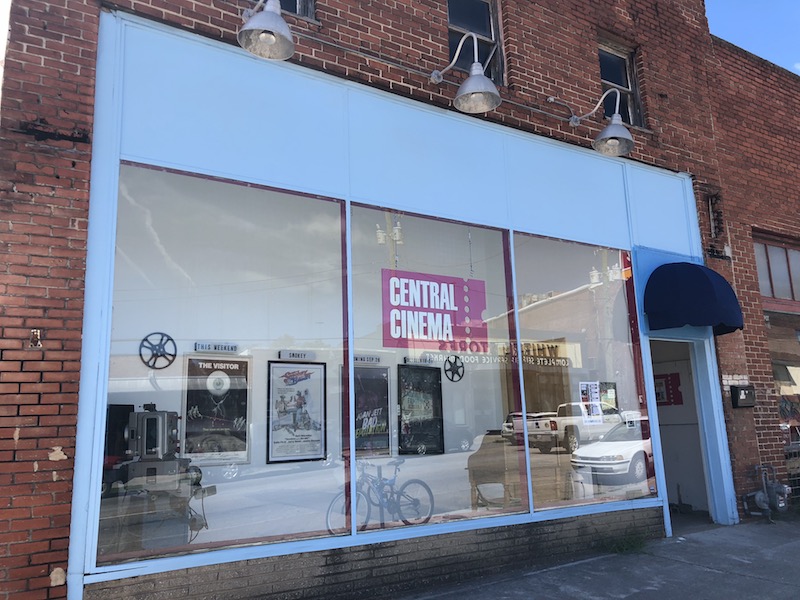 Central Cinema is a community moviehouse located in the heart of North Knoxville's Happy Holler neighborhood. As the city's only independently owned theater, we offer a homegrown alternative to the corporate multiplex experience, keeping your moviegoing dollars in the hands of a team dedicated to celebrating both film and local culture.
OUR STORY
Central Cinema was founded by the creators of the Knoxville Horror Film Fest, who have been programming film events locally since 2009. Years of sustained cultural momentum convinced us Knoxville deserved the type of eclectic film venue so many less-cool cities already enjoy. Hundreds of generous fans proved us right, contributing more than $30,000 to a GoFundMe campaign. After a year of fundraising and fine-tuning, we opened our doors in August 2018.
PROGRAMMING
In addition to a regular rotation of first-run independents and repertory favorites, we offer a wide range of events & services from live comedy and local interest film screenings to private rentals and parties. We also offer a number of regular series, including $5 nights dedicated to kung fu, skateboarding videos and anime. For a look at what's coming soon, click through to our Films & Events page.
FACILITY
Central Cinema's single auditorium features 4K digital projection and 88 seats. At the end of the adjoining gallery hallway is our concessions lounge and a deck for good times & discussion before and after film screenings.
SNACK BAR
Central Cinema offers a popcorn, candy, nachos, bottled soft drinks and a selection of canned beers, ciders & seltzers... all priced below what you're used to paying at the concession stand.
ACCESSIBILITY
Central Cinema's auditorium features wheelchair-accessible seating options. We do not currently offer day-to-day captioning options for deaf/HoH patrons, though open caption screenings are available as part of our private rental services.
HISTORY
1205 North Central was originally built as a silent moviehouse in 1916, becoming the first "suburban" theater in the burgeoning Knoxville metro area. The theater changed hands many times over the next four decades, operating under names including the Picto, the Central, the Liberty, the Cameo, the Joy, and the Center. The building was repurposed in the 1950s, and most recently served as the Taoist Tai Chi Center until Central Cinema renovated the space in 2017.
CONTACT INFO
Central Cinema
1205 N Central St
Knoxville, TN 37917
[email protected]

TICKET PRICING
$12 Adult
$11 Students & Military
$10 Seniors (65+)
$9 Members & Seniors
$7 Kids (12 & Under)
$20 Double Features any time
Pricing may vary for specialty screenings & third-party events.
OPERATING HOURS
We open for business 30 minutes before the day's first scheduled showtime and close down our concession stand about an hour before the final film lets out. (Due to limited staffing we may be closed during extended down periods between matinee and evening screenings.)
LOCATION & PARKING
We're located in the heart of Knoxville's "Happy Holler" neighborhood, just one mile north of Downtown and easily accessible via I-275's Baxter Avenue exit. In addition to our small rear lot, free street parking is available throughout the surrounding blocks.