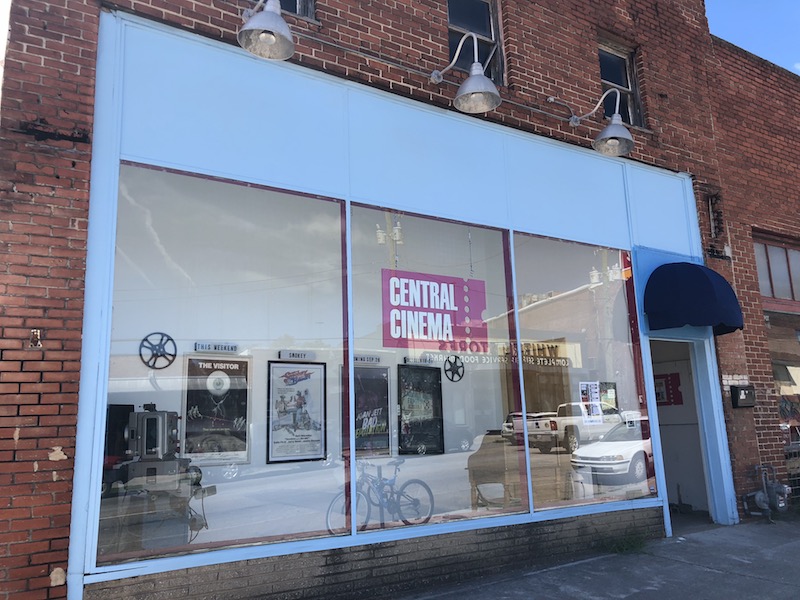 Central Cinema is a community moviehouse located in the heart of North Knoxville's Happy Holler neighborhood. Following a year of COVID-19 closure we are now back to more or less full speed, offering a schedule of films, series and special events seven nights a week.
Our Story
Central Cinema was founded by the creators of the Knoxville Horror Film Fest, who have been programming local film events since 2009. Years of sustained cultural momentum convinced us Knoxville deserves the type of eclectic film venue so many less-cool cities already enjoy. Hundreds of generous fans proved us right, contributing more than $30,000 to a GoFundMe campaign. After a year of fundraising and fine-tuning, we opened our doors in August 2018.
Programming
Every weekend we present a selection of classic films and/or first-run independents. This standard programming is complemented during the week by special film & arts events of all sorts. (Click through to our Screenings page to browse current & upcoming programming.)
Facility
Central Cinema's single auditorium features digital projection and 88 seats. At the end of the adjoining gallery hallway is our concessions lounge, featuring both inside seating and a deck for good times & discussion before and after film screenings.
Snack Bar
Central Cinema offers a popcorn, candy, nachos, bottled soft drinks and a selection of canned beers & ciders... all priced well below what you're used to paying at the concession stand.
Accessibility
Central Cinema's auditorium features wheelchair-accessible seating options. We do not currently offer captioning options for hearing impaired patrons, though open caption screenings are available as part of our private rental services.
History
1205 North Central was originally built as a silent moviehouse in 1916, becoming the first "suburban" theater in the burgeoning Knoxville metro area. The theater changed hands many times over the next four decades, operating under names including the Picto, the Central, the Liberty, the Cameo, the Joy,  and the Center. The building was repurposed in the 1950s, and most recently served as the Taoist Tai Chi Center until Central Cinema renovated the space in 2017.
CONTACT INFO
Central Cinema
1205 N Central St
Knoxville, TN 37917
info@centralcinemaknox.com
TICKET PRICING
$10 Adult
$9 Students & Military
$8 Members & Seniors
$5 Kids
$15 Double Features any time
SAFETY
For your safety & comfort we are currently selling just 44 tickets per show (50% capacity), and require unvaccinated guests to wear masks when not actively eating or drinking.
OPERATING HOURS
We open for business 30 minutes before the day's first scheduled showtime and close down our concession stand about an hour before the final film lets out. (Due to limited staffing we may be closed during extended down periods between matinee and evening screenings.)
LOCATION & PARKING
We're located in the heart of Knoxville's "Happy Holler" neighborhood, just one mile north of Downtown and easily accessible via I-275's Baxter Avenue exit. Free street parking is available throughout the surrounding blocks.
CURRENT HEALTH & SAFETY GUIDELINES
ADJUSTED MASK POLICY - JUNE 3, 2021
Since the beginning of the pandemic we've been vocal in our support of face masks, and we're deeply appreciative of the support our patrons have shown for our mask policy. There's little question that responsible mask use saved lives all over the world, and we applaud those with the character to sacrifice a degree of comfort in service of their community's health.
It would be foolish to assume there aren't still challenges ahead. More than 50% of Knox County remains unvaccinated, leaving our community vulnerable to further spread. Those who HAVE been vaccinated, however, are entitled to trust the science: there is every reason to believe that vaxxed individuals are just as safe in public without a mask. And since free vaccinations have been readily available to adult Tennesseans for two months — including, so far as we can tell, most of our regular customers — we're making a cautious decision to relax our policies.
Beginning Friday, June 4 mask use will be optional for fully vaccinated customers.
If you aren't fully vaccinated (or just feel more comfortable masked): please continue to wear a mask! If you have not been vaccinated, but this was somehow the nudge you needed: you can schedule your free vaccination HERE. If you're willfully unvaccinated: that is not our business but we will give you a free mask, enjoy your movie!
Our small team has been vaccinated since our April reopening, and may now be greeting you without a mask for our brief interaction. We remain committed to cleanliness and social distancing, and are holding for now to 50% capacity. (For better or worse most of our screenings don't hit 20%… it's not hard to keep to yourself.) 
We regret that this change may be cause for some disappointment. (Our private rentals offer restrictions to hosts' satisfaction, and we'll be continuing our contactless Central Cinema Drive-In Experience through the fall.) And we will obviously reconsider our approach should a resurgence occur. But for now we're excited to be part of a return to normal for those who have chosen that path.
Thank you for your support. We look forward to finally seeing your faces again, whenever you make that choice.
- the Central Cinema team