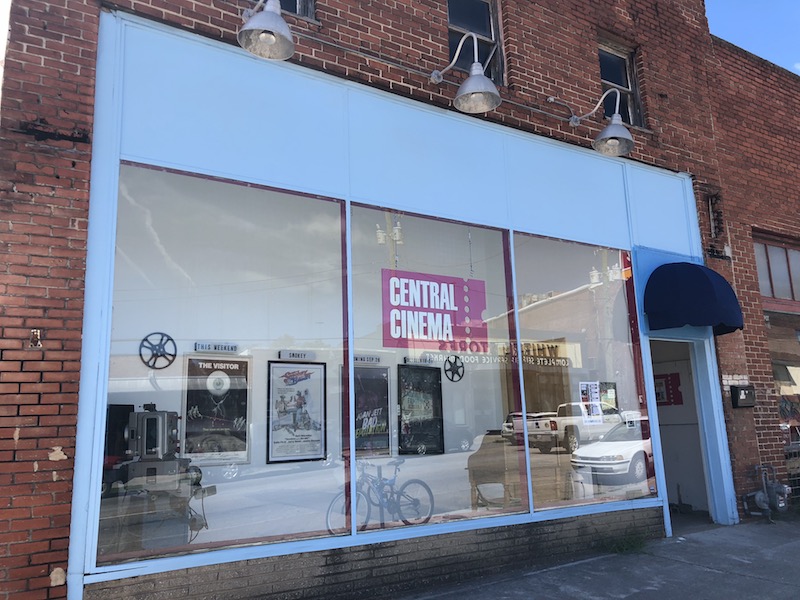 Central Cinema is a community moviehouse located in the heart of North Knoxville's Happy Holler neighborhood.
Our Story
Central Cinema was founded by the creators of the Knoxville Horror Film Fest, who have been programming local film events for more than a decade. Years of sustained cultural momentum convinced us Knoxville deserves the type of eclectic film venue so many less-cool cities already enjoy. Hundreds of generous fans proved us right, contributing more than $30,000 to a GoFundMe campaign. After a year of fundraising and fine-tuning, we opened our doors in August 2018.
Programming
Every weekend we present a selection of classic films and/or first-run independents. This standard programming is complemented during the week by special film & arts events of all sorts. (Click through to our Films page to browse current & upcoming programming.)
Facility
Central Cinema's single auditorium features 4K digital projection and 96 seats custom-decorated with movie moments selected by friends and supporters. At the end of the adjoining gallery hallway is our concessions lounge, featuring both inside seating and a deck for good times & discussion before and after film screenings.
Snack Bar
Central Cinema offers a variety of food and drink options, from movie theater staples to locally-sourced treats and a selection of canned & bottled beers... all priced well below what you're used to paying at the concession stand.
Policies
Central Cinema has low tolerance for poor theater etiquette, and reserves the right to remove patrons for talking, cell phone use and other behaviors that can ruin a night out at the movies for others.
Accessibility
Central Cinema's auditorium features wheelchair-accessible seating options. Larger patrons should be advised that most of our seats are more compact than those at a standard multiplex; if this becomes an issue during your visit please contact a manager and we'll do our best to accommodate you. We do not currently offer captioning options for hearing impaired patrons but intend to make it a priority as our operations expand.
History
1205 North Central was originally built as a silent moviehouse in 1916, becoming the first "suburban" theater in the burgeoning Knoxville metro area. The theater changed hands many times over the next four decades, operating under names including the Picto, the Central, the Liberty, the Cameo, the Joy (pictured above circa 1933) and the Center. The building was repurposed in the 1950s, and most recently served as the Taoist Tai Chi Center until Central Cinema began renovating the space in 2017.
CONTACT INFO
Central Cinema
1205 N Central St
Knoxville, TN 37917
info@centralcinemaknox.com
(865) 951-2447
TICKET PRICING
$10 Evening
$9 Students & Military
$8 Matinee & Seniors
$7 Kids
$15 Double Features
OPERATING HOURS
We open for business 30 minutes before the day's first scheduled showtime and close down our concession stand just before the final film lets out.
LOCATION & PARKING
We're located in the heart of Knoxville's "Happy Holler" neighborhood, just one mile north of Downtown and easily accessible via I-275's Baxter Avenue exit. Free street parking is available throughout the surrounding blocks.
FREQUENTLY ASKED QUESTIONS
ABOUT CENTRAL CINEMA
What days of the week is Central Cinema open?
Central Cinema is generally open Wednesday through Sunday. Check our listings for more information.
Why are you not open set hours during the week?
We're still trying to get a feel for how moviegoing fits into people's schedule. If you think we should be open every Wednesday, for instance, the best way to let us know is to show up to the Wednesday screenings we do offer!
What are your business hours?
We open a half hour before the day's first screening, and stop serving popcorn 45 minutes after the final screening begins. Our lounge area is generally open to the public at all times in between, and we're happy to serve up a beer or a popcorn regardless of whether you're here to see a movie.
How much are tickets?
A standard evening ticket is $10, and a matinee ticket (pre-5pm) is $8. Senior citizens pay $8 anytime, and kids tickets are just $7. (Sales tax is included in all pricing.)
What do you serve at your concession stand?
Besides the best popcorn in town ($4.50-$6), we have a wide selection of candy ($2-$3) and soft drinks ($2.50-$3) as well as hot coffee or cocoa ($3).
Do you serve alcohol?
We serve a variety of canned & bottled beers and ciders, from the cheap stuff (just $3.50 for 16oz High Life or PBR) to craft and local selections (up to $6 for high gravity or specialty beers). We expect to expand to wine in the near future… if that appeals to you, let us know!
Is there a place to stay and talk movies with other fans after a screening?
We encourage our patrons to come early and stick around afterward for discussion. Grab a drink and hang out in our lobby or on our back deck!
THEATER ETIQUETTE
Why all the fuss about talking & texting in the theater?
Because it's important! We do what we do because we believe in the pleasures of the theatrical experience, and a big part of that is an opportunity to take in a whole film without looking at your smartphone. This is not to mention, of course, that it's super rude and you shouldn't do it at any movie theater.
What are the consequences for being rude with my phone, or with my dumb loud whispering?
Unsuccessfully polite patrons will be given one warning before being requested to leave. And if we remember having warned you in the past, we reserve the right to cut right to the booting. (So: if we give you a warning, don't give us any reason to remember doing it!)
What about kids, though?
Kids are going to make noise at the movies, it is what it is. We ask only that parents show what initiative they can to encourage good theater etiquette, and set a good example by staying off their phones.
Are there exceptions to these rules?
Sure there are. But if you're at a screening and there's any question as to whether audience involvement is appropriate, the answer is probably no!
PROGRAMMING
What is your projection setup?
We run most feature content on a 4K digital projector, using the best quality source available to us.
Why don't you show films on 35mm?
We love celluloid as much as the next movie fan, but a range of factors preclude us from presenting films on 35mm. We do occasionally present films on 16mm.
Why aren't you showing [current-release blockbuster]?
We don't generally show films that can be seen at other area theaters. We consider this a feature, not a bug!
Why don't you show [specific movie]?
We're interested in showing anything people are interested in coming to see! But certain films are sadly out of our reach for various reasons. If we could show Empire Strikes Back at all, for instance, we'd probably show it like once a month. But alas.
Why don't you show more [category of films]?
If you feel like we've got a blind spot, leave a comment and tell us what we're missing! But in the end we're mostly going to show whatever we can get the most moviegoers out to, so show us the demand is there by coming out to similar films, and bringing your friends with you!
OTHER OFFERINGS
What's with all the books, movies and fetching branded swag?
We offer a small selection of consignment items, secondhand media and Central Cinema merchandise. Feel free to flip through a book while you await your movie! Just please don't ruin or steal our stuff.
I've got some old DVDs. Can I trade them in to you?
Probably not, sorry! We've got very little space for that stuff, so most of our secondhand media comes from our own private collections. If you're confident you've got something that makes more sense on our shelf than anyone else's, you're welcome to run it by us. Otherwise we recommend our lovely sponsors McKay Used Books & Music, just off the Papermill exit!
I've got a great collection of movie posters but no one ever comes over to look at them. Can I borrow some wall space?
Sure! We do our best to rotate our posters to suit our current programming, and are always looking for fellow enthusiasts to draw from. And if you're looking for some extra cash, we're happy to slap a consignment tag on it for you!
Do you rent physical media like Blu-rays & DVDs?
If this is a question you actually have for us please email us to let us know the demand is out there. We're not set up for it yet but we have some ideas.
What's with the movies on the armrests?
Central Cinema was partially funded by generous film fans in Knoxville and elsewhere through a $30,000+ crowdfunding campaign. Among the perks offered through our GoFundMe was "Adopt-An-Arm", allowing donors to select a favorite film and have their name put on a tribute as we refinished our auditorium seating.
What movie is [this armrest]?
Watch more movies or ask a friend!