James Agee Celebration
World Premiere: A Death In The Family
Directed by
Richard Dindo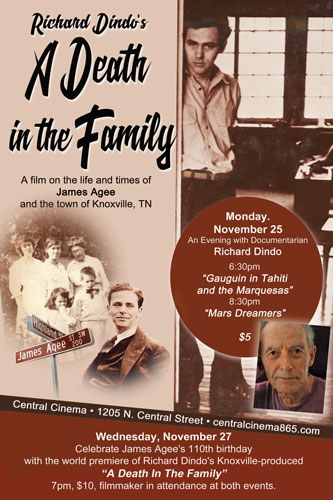 Central Cinema is thrilled to be hosting the world premiere of Richard Dindo's A Death In The Family, which the Swiss documentarian shot & cast in the Knoxville area in the fall of 2018.
In contrast to the Ross Spears's more straightforward documentary Agee, (which opens our James Agee 110th Birthday Celebration on Tuesday, November 21) Dindo's A Death In The Family offers an unconventional nonfiction approach to its examination of the famed writer & Knoxvillian, using excerpts (read by local notable R.B. Morris) and a metatextual frame to examine Agee's life and work through its continuing personal, cultural and local resonance.
Mr. Dindo and several of his local collaborators will be in attendance at the premiere; standard ticketing prices apply.
USA/Switzerland
•
2019
• • Rated
NR