Cinematic Void presents January Giallo
Who Saw Her Die?
Directed by
Aldo Lado & Vittorio De Sisti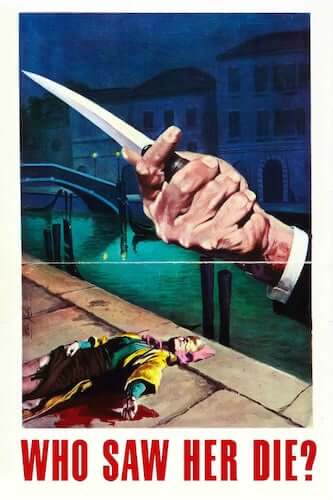 Screening as part of our Morricone '72 double bill with What Have You Done To Solange?
Sculptor Franco Serpieri (George Lazenby) welcomes Roberta (Nicoletta Elmi) – his young daughter from a failed marriage – to Venice, unaware that a disturbed child-killer is stalking the city's canals. When Roberta's body is found floating face-down in the river, the lives of Franco and his estranged wife Elizabeth (Anita Strindberg) are ripped asunder.
Released at the height of the giallo boom, this gripping mystery thriller boasts some of the most iconic names associated with the genre on both sides of the camera. Co-starring Dominique Boschero (the iguana with the tongue of fire) and featuring one of the all-time greatest scores from maestro Ennio Morricone, WHO SAW HER DIE? thrills anew in a new restoration. (AGFA)
Restoration courtesy of Arrow Films and the American Genre Film Archive.
Showtimes