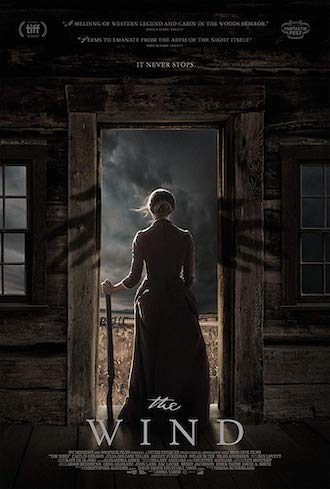 IFC Midnight's latest vision from the dark is a paranoid supernatural western sure to appeal to fans of THE WITCH and other slow-burn descents.
"It's refreshing to see such an original stab at this type of indie genre-bender, especially one told from a strictly female point of view." – Hollywood Reporter
An unseen evil haunts the homestead in this chilling, folkloric tale of madness, paranoia, and otherworldly terror. Lizzy (Caitlin Gerard) is a tough, resourceful frontierswoman settling a remote stretch of land on the 19th-century American frontier. Isolated from civilization in a desolate wilderness where the wind never stops howling, she begins to sense a sinister presence that seems to be borne of the land itself, an overwhelming dread that her husband (Ashley Zukerman) dismisses as superstition. When a newlywed couple arrives on a nearby homestead, their presence amplifies Lizzy's fears, setting into motion a shocking chain of events. Masterfully blending haunting visuals with pulse-pounding sound design, director Emma Tammi evokes a godforsaken world in which the forces of nature come alive with quivering menace.
"A convincingly feminist melding of western legend and cabin-in-the-woods horror, THE WIND doesn't seek to make infallible heroes of its women, but to understand and empathize with even their most unforgivable acts. And it's a hugely promising debut in terms of [director Emma] Tammi's steady, assured directorial craft." – Variety
USA
•
2019
•
• Rated
R
Starring
Miles Anderson, Caitlin Gerard, Julia Goldani Telles