James Agee 110th Celebration
The Night Of The Hunter
Directed by
Charles Laughton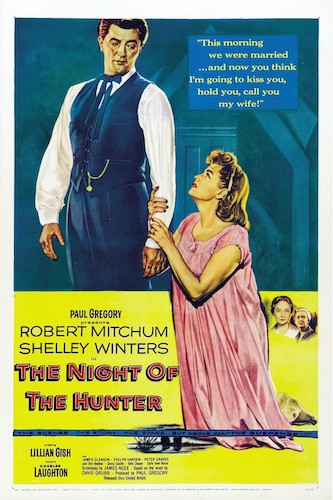 Directed by actor Charles Laughton in one of American cinema's most remarkable one-offs, James Agee's adaptation of Davis Grubb's novel is the perfect showcase for Laughton's expressionism and Robert Mitchum's malevolent turn as a preacher with sinister motives. ​
The Night of the Hunter screens as part of our James Agee 110th Birthday Celebration. Friday's 6pm screening will be introduced by local Agee authority Dr. Charles Maland, and presented on a 16mm print courtesy of the Tennessee Archive of Moving Image and Sound. (Saturday & Sunday's screenings will be presented digitally.)
The Rev. Harry Powell (Robert Mitchum) is a religious fanatic and serial killer who targets women who use their sexuality to attract men. Serving time in prison for car theft, he meets condemned murderer Ben Harper (Peter Graves), who confesses to hiding $10,000 in stolen loot. Released from jail, Powell is obsessed with finding the money, and he tracks down Harper's widow, Willa (Shelley Winters), and her two children, John (Billy Chapin) and Pearl (Sally Jane Bruce).
"One of the great movie horror tales, with one of the greatest of all movie villains." – Chicago Tribune

"Unlike anything else before and since…. stands up now as one of the great pieces of American genre cinema." – Times UK
USA
•
1955
•
• Rated
NR
Starring
Robert Mitchum, Shelley Winters, Lillian Gish
Events