The Late Show: Up All Night
Directed by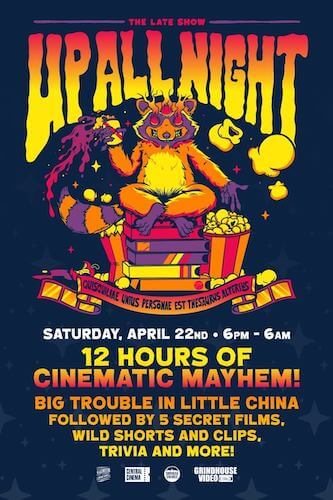 Our exclusive lock-in celebration of cult cinema and togetherness returns for a second year with the Late Show's Up All Night movie marathon, presenting six wild feature films plus a hand-picked mix of shorts, commercials, music videos and other fun! Running from 6pm Saturday evening until 6am Sunday morning, Up All Night is a brain-melting endurance test designed with fun-loving, adventurous film fans in mind… do you have what it takes to stay up all night?
This year's event kicks off with John Carpenter's goofy wuxia riff BIG TROUBLE IN LITTLE CHINA; all further programming (including five additional full-length movies) is curated to surprise and will not be detailed in advance of the event.
BIG TROUBLE IN LITTLE CHINA (1986) – Jack Burton (Kurt Russell) is a long-haul trucker stopping in San Francisco to meet his buddy Wang Chi (Dennis Dun) and pick up Wang's fiancee Miao Yin (Suzee Pai) from the airport. But when Miao is kidnapped by evil sorcerer David Lo Pan (EVERYTHING EVERYWHERE ALL AT ONCE's James Hong) Jack and Wang must join forces with lawyer Gracie Law (Kim Cattrall), tour bus driver Egg Shen (Victor Wong), and the Chang Sing street gang join forces to rescue her.
Showtimes