The Dirty Dozen
Directed by
Robert Aldrich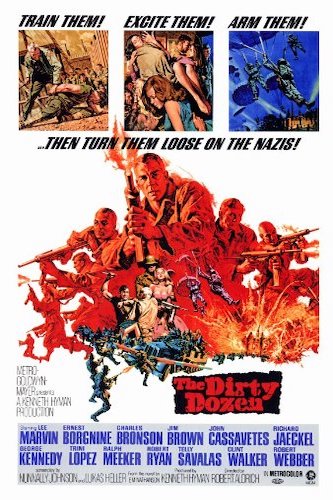 Join us for a special Memorial Day Weekend presentation featuring Lee Marvin & his band of Nazi-antagonizing ruffians in The Dirty Dozen!
Catch a special program of LOONEY TUNES (5pm) before Sunday's 6pm screening for a combo price of just $12! And for our two Memorial Day matinees (1pm & 4pm Monday) we'll be offering $5 admission for military veterans & any accompanying family members.
As D-Day approaches, Colonel Breed hands the roguish Major Reisman (Lee Marvin) an important assignment: He must train a team of soldiers to parachute across enemy lines and assassinate German personnel at a French chateau. The soldiers, recruited from murderers, rapists and criminals on death row, are promised commuted sentences. In spite of their history, the 12 men prove a spirited and courageous unit. Led by Major Reisman, they will exact revenge.
USA
•
1967
•
• Rated
NR
Starring
Lee Marvin, Ernest Borgnine, Charles Bronson