Creepycon & KHFF Present
Texas Chainsaw Massacre Triple Feature
Directed by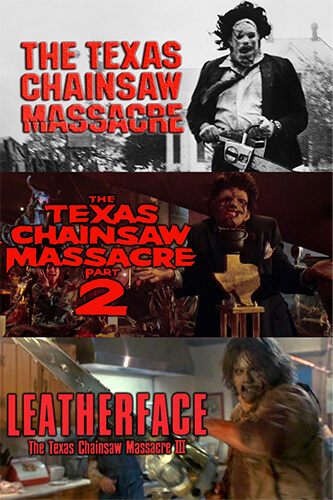 KHFF and Central Cinema are thrilled to be teaming up with Creepycon for a very special triple feature presentation of the first three entries in the infamous Texas Chainsaw Massacre franchise!
This intimate ONE NIGHT ONLY event will feature Q&A sessions with Creepycon 2021 guests John Dugan (Grandpa TCM), Big Bob Elmore (Leatherface, TCM2), R.A. Mihailoff (Leatherface, TCM3), Duane Whitaker (Kim, TCM3), Jeff Burr (director, TCM3) and Mick Strawn (production designer, TCM3), moderated by The Stylist director and TCM superfan Jill Gevargizian!
The Texas Chain Saw Massacre (1974)
When Sally (Marilyn Burns) hears that her grandfather's grave may have been vandalized, she and her paraplegic brother, Franklin (Paul A. Partain), set out with their friends to investigate. After a detour to their family's old farmhouse, they discover a group of crazed, murderous outcasts living next door. As the group is attacked one by one by the chainsaw-wielding Leatherface (Gunnar Hansen), who wears a mask of human skin, the survivors must do everything they can to escape.
The Texas Chainsaw Massacre 2 (1986)
Chainsaw-wielding maniac Leatherface (Bill Johnson) is up to his cannibalistic ways once again, along with the rest of his twisted clan, including the equally disturbed Chop-Top (Bill Moseley). This time, the masked killer has set his sights on pretty disc jockey Vanita "Stretch" Brock (Caroline Williams), who teams up with Texas lawman Lefty Enright (Dennis Hopper) to battle the psychopath and his family deep within their lair, a macabre abandoned amusement park.
Leatherface: The Texas Chainsaw Massacre 3 (1990)
Driving through Texas, young yuppie couple Michelle (Kate Hodge) and Ryan (William Butler) stop at the Last Chance Gas Station, but after they witness the owner attacking a hitchhiker named Tex (Viggo Mortensen), they panic and flee. In their hasty departure, they get lost and soon find themselves pursued by the chainsaw-toting maniac known as Leatherface (R.A. Mihailoff). While running, the couple bump into survivalist Benny (Ken Foree), who they team up with in an effort to escape.
Events