Ijams Nature Center Movies Under The Stars
Terror In The Woods: The Craft + The Blair Witch Project
Directed by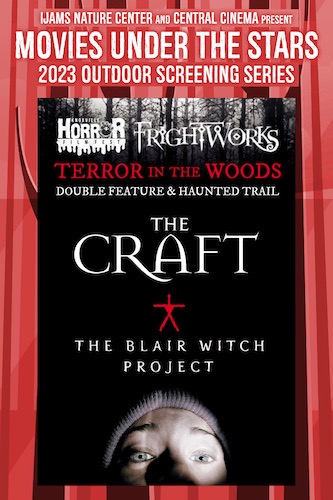 Ijams Nature Center, Knoxville Horror Film Fest and Frightworks present a positively witchy installment of our annual TERROR IN THE WOODS double feature on Saturday June 17, including a "haunted trail" attraction by Frightworks' seasoned scaremongers. Don't miss out on the horror event of the summer!
THE CRAFT – After transferring to a Los Angeles high school, Sarah (Robin Tunney) finds that her telekinetic gift appeals to a group of three wannabe witches, who happen to be seeking a fourth member for their rituals. Bonnie (Neve Campbell), Rochelle (Rachel True) and Nancy (Fairuza Balk), like Sarah herself, all have troubled backgrounds, which combined with their nascent powers lead to dangerous consequences. When a minor spell causes a fellow student to lose her hair, the girls grow power-mad.
THE BLAIR WITCH PROJECT – Found video footage tells the tale of three film students (Heather Donahue, Joshua Leonard, Michael C. Williams) who've traveled to a small town to collect documentary footage about the Blair Witch, a legendary local murderer. Over the course of several days, the students interview townspeople and gather clues to support the tale's veracity. But the project takes a frightening turn when the students lose their way in the woods and begin hearing horrific noises.
Movies Under The Stars series info: Screenings take place on the Ijams Nature Center visitors center lawn. Gates open at 7pm, films begin at sundown. Terror In The Woods tickets are $15 per person and include access to the haunted trail. Food and drink (including beer) will be available onsite; coolers and/or outside alcohol are not allowed.
Showtimes