Frankencon presents
Tales From The Crypt Double Feature
Directed by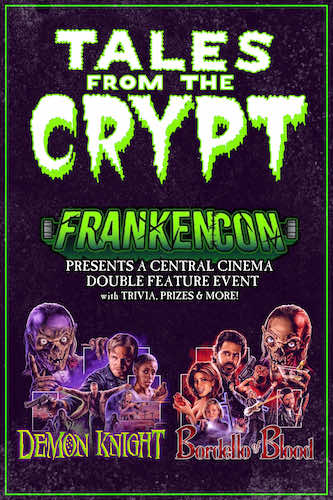 Frankencon and Central Cinema have a special treat for all you boils and ghouls on Friday the 13th of October as we flash back to the 90s for a TALES FROM THE CRYPT double feature event featuring 1995's DEMON KNIGHT and 1996's BORDELLO OF BLOOD!
DEMON KNIGHT // Ex-soldier Frank Brayker (William Sadler) is the guardian of an ancient key that can unlock tremendous evil; the sinister but charming Collector (Billy Zane) is a demon who wants the key so he can initiate the apocalypse. On the run from wicked mercenaries for almost 90 years, Brayker finally stops in at a boarding house in New Mexico where — with the help of its quirky residents — he plans to face off against the Collector and his band of ghouls, preventing them from ever seizing the key.
BORDELLO OF BLOOD // After her troublemaking brother, Caleb (Corey Feldman), goes missing, Katherine Verdoux (Erika Eleniak) seeks the services of sarcastic private investigator Rafe Guttman (Dennis Miller) to track the errant youth down. Rafe eventually determines that Caleb is in the thrall of Lilith (Angie Everhart), a powerful vampire who operates a seedy brothel. When Rafe and Katherine set out to rescue Caleb, they must contend with the lethal Lilith and her evil minions.
Showtimes