Sweet Sweetback's Baadasssss Song
Directed by
Melvin Van Peebles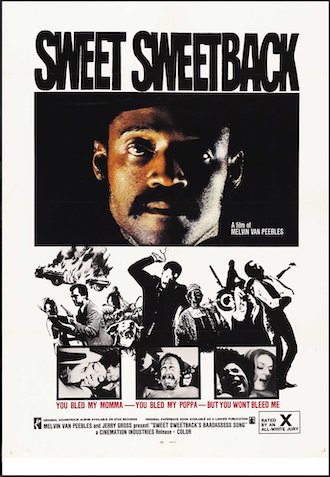 Following the success of 1970's racial satire Watermelon Man, Melvin Van Peebles was offered down a three-movie deal with Columbia Pictures… then turned it down when they declined to finance his passion project "about a brother getting the Man's foot out of his ass." Van Peebles immediately went on to write, direct, edit, score, star in and independently produce that very picture, resulting in what Black Panther leader Huey Newton called "the first truly revolutionary Black film." Audiences agreed, leading the film to enormous box office success in heavily black communities and arguably kickstarting the wave of "Blaxploitation" films that would dominate those same screens for the next decade.
"Totally uncompromising… accumulates a kind of hallucinatory groove, with unexpected shafts of bizarre humor and vigorous, experimental new wave direction." – Time Out
Sweet Sweetback (Melvin Van Peebles) is a black orphan who, having grown up in a brothel, now works there as part of a sex show. When the police need a patsy for a murder in the black community, Sweetback's employer gives him up to two white cops, whom Sweetback ends up killing. Suddenly the target of a massive manhunt, he decides to flee to Mexico. As he makes his way there, he is captured by, and escapes from, both the cops and a chapter of the Hell's Angels.
"A shrewd and powerful mix of commercial ingredients and ideological intent." – Chicago Reader
USA
•
1971
•
• Rated
R
Starring
Melvin Van Peebles, Simon Chuckster, Hubert Scales