Cinematary Podcast presents
Slumber Party Massacre II
Directed by
Deborah Brock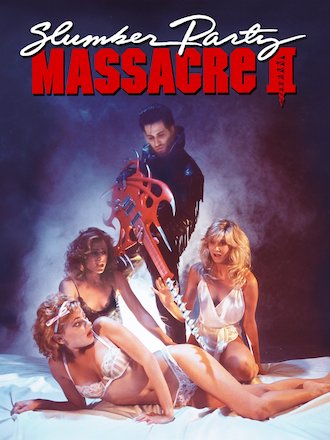 Back in October our friends at the Knoxville-based Cinematary Podcast did their (and our) first-ever live podcast following a special screening of horror classic Slumber Party Massacre. But this time around they're going in a more serious direc… just kidding, here comes the doubly-infamous Slumber Party Massacre 2, complete with another live podcast session following Friday night's show!
"A horror comedy musical cult film that you need to see." – Dangerous Minds
Courtney Bates (Crystal Bernard, TV's Wings) and her friends go to their condo for a weekend getaway, but Courtney can't get rid of the haunting feeling that a supernatural rockabilly driller killer is coming to murder them all.
"The rockabilly killer is probably the most entertaining slasher ever to grace the screen — sort of like Elvis Presley playing Norman Bates, complete with musical numbers." – TV Guide
USA
•
1987
•
• Rated
R
Starring
Crystal Bernard, Jennifer Rhodes, Kimberly McArthur