Sharksploitation Celebration
She-Gods of Shark Reef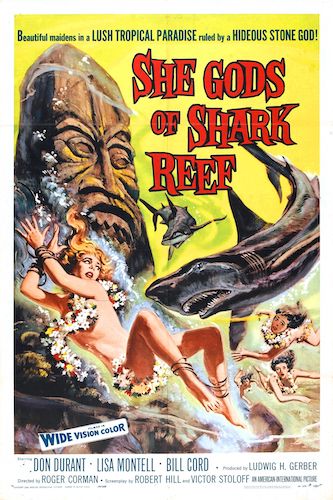 Our Sharksploitation Celebration mini-series kicks off with a special FREE Tales From The Public Domain screening of this Roger Corman oddity, shot back to back with his Naked Paradise and originally released as the B-feature for the Corman-produced Night Of The Blood Beast.
Admission to this screening is free, in part because this public domain film is only available in limited audiovisual quality… but we encourage you to come down and enjoy some vintage shark action before the 7:15pm Deep Blue Sea!
Two men escaping the police by ship are blown off course by a typhoon and shipwrecked on an uncharted island populated by women who make a living diving for pearls. What the men don't know is that the women are also part of a shark cult that sacrifices young virgins in order to appease the shark gods.
USA
•
1958
•
• Rated
NR
Starring
Bill Cord, Don Durant, Lisa Montell
Events