Salomé Cabaret Burlesque Academy 2019 Grinduation
Directed by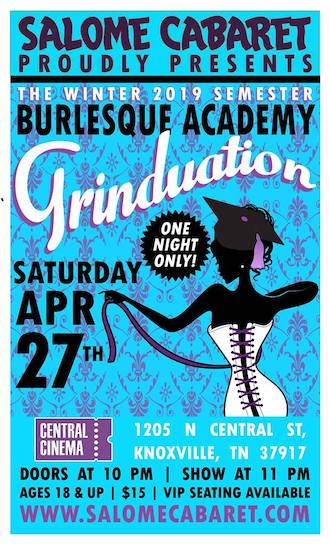 Central Cinema is excited to be hosting this very special non-film event from our friends at Salomé Cabaret.
Salomé Cabaret is known for a lot of things: our beautiful performers, our hilarious hi-jinx, and our ability to shimmy and shake a crowd into a frenzy! Did you know that we are also known for teaching up-and-coming burlesque stars the tricks of the tassels?
Join us on Saturday, April 27th at Central Cinema in Happy Holler and help us welcome our newest batch of burlesque beauties to the stage! You might just catch a glimpse of the Salomé Cabaret Burlesque Academy professors and past academy graduates as well!
This is also our first time at Central Cinema, and we're super excited to partner with them to bring you this limited ticket event. General Admission seats are first come first serve, so get in line as soon as you can and don't miss out! First 3 rows are VIP, and include perks such as drink tickets and other surprises. For the best views and perhaps a little extra attention from the performers, the VIP experience is definitely the best way to spend your evening with Salomé and the students. VIP seating is extremely limited and is sure to sell out fast, so visit www.salomecabaret.com/vip.html to book yours now!
Doors at 10 PM
Show at 11 PM
General Admission | $15 at the door
VIP | $25 pre-purchase online | includes drink ticket usable at the Central Cinema concessions