Roar
Directed by
Noel Marshall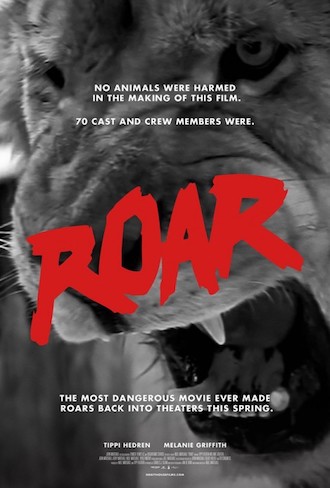 We'll let AGFA handle the description here… we're content to say that this is one of the most viscerally fascinating and entertaining films you'll ever see, and seeing it with a crowd is an absolute must.
11 years, many millions and many real-life Apocalypse Now-style tragedies in the making, this maniacal, well-meaning fever dream / career-derailing utopian social experiment / animal-attack crucible stars spouses Tippi Hedren (The Birds) and Noel Marshall (exec producer of The Exorcist), their real children (including a 14-year-old Melanie Griffith!), and over 100 unpredictable lions, tigers, leopards and cheetahs from their own private collection in what's justly been labeled "the most dangerous film ever made."
An unprecedented — and wholly unpredictable — action-adventure, Roar follows wildlife preservationist Hank (Noel Marshall), who lives quasi-harmoniously alongside a menagerie of untamed animals on a preservation in the African plains. When his wife and children arrive for a visit, a long-brewing battle for dominance between the lions erupts and threatens their very lives.
Roar's loose "plot" is but a paper-thin excuse to shove rampaging beasts into the frame at all times; these cool cats are the guiding force of the film's frequently shocking moments. Are the family's performances staged, or is that true fear in their eyes? Either way, there has never been anything like Roar, and there likely will never be again!
"Just watching it feels dangerous." – Movies.com

"It's like Walt Disney went insane and shot a snuff version of Swiss Family Robinson." — Hitfix

"100% insane, unbelievable." — Screen Crush
USA
•
1981
•
• Rated
PG
Starring
Tippi Hedren, Noel Marshall, Melanie Griffith