Art House Theater Day
Putney Swope
Directed by
Robert Downey Sr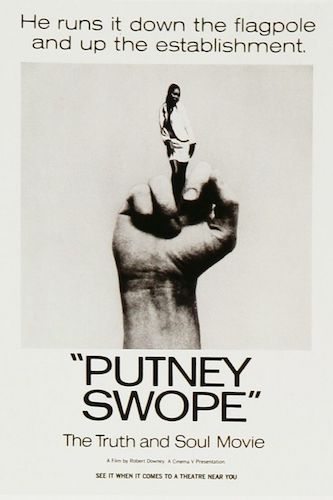 We're celebrating our second Art House Theater Day with this revolutionary slice of hard satire, premiering in a new restoration at small theaters across the country.
New 50th Anniversary restoration by The Academy Film Archive and The Film Foundation with funding provided by the George Lucas Family Foundation!
An unforgettable late-'60s counterculture masterpiece, Robert Downey Sr.'s Putney Swope remains a vital provocation on race, pop culture and America. Putney Swope, the only African-American exec at his ad firm, is unexpectedly elected its president and turns the industry on its ear through a series of outrageous, taboo-busting TV commercials (strewn throughout the film like comedic landmines.) As Swope becomes the Generalissimo of Madison Avenue, Downey takes no prisoners and skewers the entire political spectrum.
"Funny, sophomoric, brilliant, obscene, disjointed, marvelous, unintelligible and relevant. If anybody tries to improve it, they should be sentenced." — Vincent Canby, New York Times

"I just think [Downey's] one of our great American directors." — Paul Thomas Anderson
USA
•
1969
•
• Rated
R
Starring
Arnold Johnson, Stan Gottlieb, Allen Garfield