Haunted Knoxville presents
Poltergeist
Directed by
Tobe Hooper etc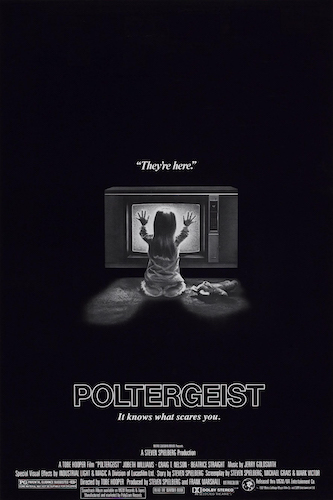 Join us as Haunted Knoxville Ghost Tours (in association with Paranormal Underground magazine) presents one of the 1980s' most lasting and influential horror films.
These special event screenings will be accompanied by a talk from by HKGT's resident paranormal historian J. Adam Smith; attendees will receive a limited-edition lanyard and are invited to attend in 80s film-themed costumes.
Sponsored by Paranormal Underground Magazine & Clowers ITC, these special event screenings will be accompanied by:
Informative Introduction: hear from paranormal historian J-Adam Smith and his Haunted Knoxville team on the background behind the film!
Exclusive Special Event Lanyards: Free to everyone who attends!
80s Costume Theme: Come dressed up as your favorite 80s entity (or rocking swag from previous Haunted Knoxville events) and be one of 20 attendees to get a special grab bag!
Vintage Ghost Gear Photo Ops: Paranormal Adventure Tours will have some era-appropriate ghost hunting equipment displayed in the lobby!
Strange and creepy happenings beset an average California family, the Freelings — Steve (Craig T. Nelson), Diane (JoBeth Williams), teenaged Dana (Dominique Dunne), eight-year-old Robbie (Oliver Robins), and five-year-old Carol Ann (Heather O'Rourke) — when ghosts commune with them through the television set. Initially friendly and playful, the spirits turn unexpectedly menacing, and, when Carol Ann goes missing, Steve and Diane turn to a parapsychologist and eventually an exorcist for help.
"Hooper and Spielberg hold our interest by observing the everyday rituals of this family so closely that, since the family seems real, the weird events take on a certain credibility by association." – Roger Ebert

"A thoroughly enjoyable nightmare, one that you know that you can always wake up from, and one in which, at the end, no one has permanently been damaged. It's also witty in a fashion that Alfred Hitchcock might have appreciated." – Vincent Canby
USA
•
1982
•
• Rated
PG
Starring
JoBeth Williams, Heather O'Rourke, Craig T. Nelson