Raven Records & Rarities Presents
Performance
Directed by
Nicolas Roeg & Donald Cammell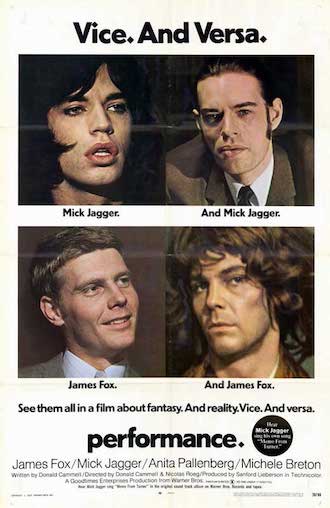 Raven Records & Rarities' pick for Record Store Day weekend is Mick Jagger's dramatic film debut in Nicolas Roeg and Donald Cammell's unusual drama Performance.
We'll have some great Dogfish Head beer swag to give away, including a limited edition record player Saturday's screening!
"A virtuoso juggling act which manipulates its visual and verbal imagery so cunningly that the borderline between reality and fantasy is gradually eliminated." – Time Out
After killing a rival in self-defense, hoodlum Chas (James Fox) must flee both from the law and from his boss, Harry Flowers. He eventually moves into a house owned by Turner (Mick Jagger), a former rock star who lives with female companions Pherber (Anita Pallenberg) and Lucy (Michele Breton). Chas and Turner initially clash, but Turner becomes fascinated with Chas' life as a criminal. Through drugs and a series of psychological battles with Turner, Chas emerges a different man.
UK
•
1970
•
• Rated
R
Starring
James Fox, Mick Jagger, Anita Pallenberg