Ijams Nature Center presents
Movies Under The Stars: Shrek
Directed by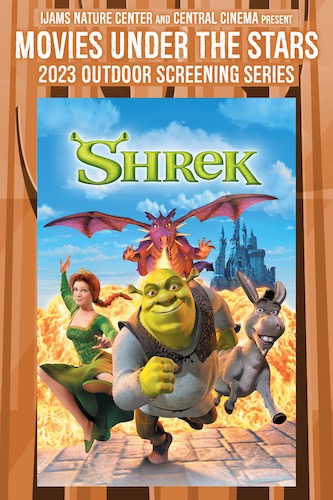 Join us at Ijams Nature Center on Friday, June 9 for Shrek, the cheeky fairytale that won the first-ever Oscar for Best Animated Film, established DreamWorks Animation as a powerhouse Pixar rival, and set the irreverent tone for a generation of family movies.
Once upon a time, in a far away swamp, there lived an ogre named Shrek (Mike Myers) whose precious solitude is suddenly shattered by an invasion of annoying fairy tale characters. They were all banished from their kingdom by the evil Lord Farquaad (John Lithgow). Determined to save their home — not to mention his — Shrek cuts a deal with Farquaad and sets out to rescue Princess Fiona (Cameron Diaz) to be Farquaad's bride. Rescuing the Princess may be small compared to her deep, dark secret.
Movies Under The Stars series info: Screenings take place on the Ijams Nature Center visitors center lawn. Gates open at 7pm, films begin at sundown. Tickets are $10 per person or $36 for a four-pack. Food and drink (including beer) will be available onsite; coolers and/or outside alcohol are not allowed.
Showtimes