Hurt: A Mississippi Inspiration presents
Louie Bluie (16mm Fundraiser)
Directed by
Terry Zwigoff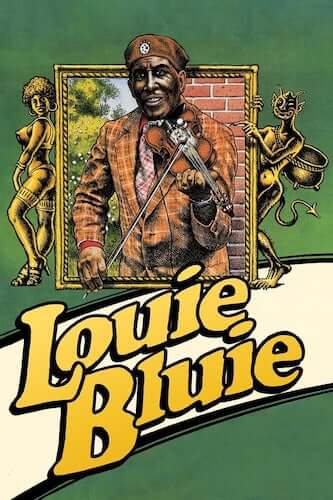 Join us for a very special film event as the Knoxville-based producers of HURT: A MISSISSIPPI INSPIRATION (an upcoming short documentary about bluesman Mississippi John Hurt) present an informational session about their film, including some words from John's granddaughter Mary Frances Hurt.
Following the talk there will be a 16mm film presentation pairing clips of MJH-contemporary rural Southern life with Terry Zwigoff's hour-long music doc LOUIE BLUIE, all sourced from the TAMIS collection and projected by Bradley Reeves.
For tickets and more detailed information, visit the Eventbrite page.
CRUMB director Terry Zwigoff's first film is a true treat: a documentary about the obscure country-blues musician and idiosyncratic visual artist Howard "Louie Bluie" Armstrong, member of the last known black string band in America. As beguiling a raconteur as he is a performer, Louie makes for a wildly entertaining movie subject, and Zwigoff honors him with an unsentimental but endlessly affectionate tribute. Full of infectious music and comedy, Louie Bluie is a humane evocation of the kind of pop-cultural marginalia that Zwigoff would continue to excavate in the coming years.
"Peers into the areas where nothing is certain, except that these people live and strive and laugh and make music. A wonderful film." – Roger Ebert
Third-Party Event Notice: this screening or performance is presented by an outside organization using Central Cinema as a venue for hire. Questions regarding content, ticketing and other event-specific information should be directed to the organizers.
Showtimes