Ravens Vail presents
Live Event: Appalachian HorrorFest
Directed by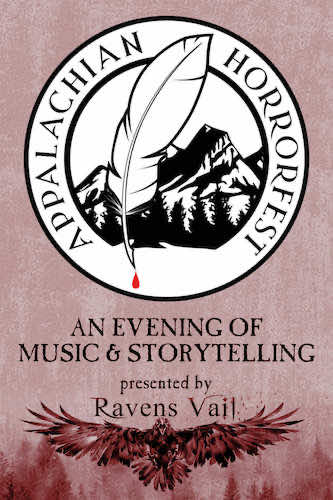 Join Ravens Vail Podcast for the debut of their live Appalachian HorrorFest event, celebrating the dark side of storytelling & songwriting traditions with regional tales of the cruel and macabre!
People have told scary stories since the beginning of time, and the Appalachian HorrorFest is keeping that tradition alive by providing a platform for storytellers to spin their bloodcurdling tales. The Appalachian Mountains have been the setting of some of the most unique scary stories ever, most of which no one knows if they are true or just a tale spun to keep the kids in line. If you enjoy listening to a good scary story, this event is for you. It will feel like you're sitting on the ol' front porch while your granddad tells scary stories he heard from his grandad. Our storytellers will entertain you with tales from around the world and close to home. Gather up your friends and family, slow down, turn off the phone, and spend an evening with us, listening to the spooky stories from world-class tellers.
Third-Party Event Disclaimer: this screening or performance is presented by an outside organization using Central Cinema as a venue for hire. Questions regarding content, ticketing and other event-specific information should be directed to the organizers.
Showtimes