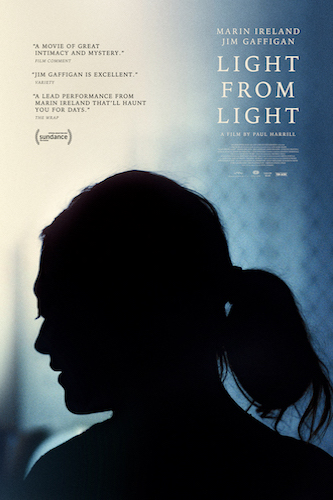 Knoxville-based filmmaker Paul Harrill brings his latest feature — lauded at Sundance and beyond for, among other things, Jim Gaffigan's unexpectedly moving performance — home to Central Cinema.
Light From Light opens Friday, December 6; more showtimes will be added as they are finalized.
Gifted with sometimes-prophetic dreams and a lifelong interest in the paranormal, Sheila (Marin Ireland) is asked to investigate a potential haunting at a Tennessee farmhouse. It's there she meets Richard (Jim Gaffigan), a recent widower who believes his wife may still be with him. The investigation that ensues — which eventually pulls in Shelia's son, Owen and his classmate Lucy — forces them to confront the mysteries of their own lives.
"A movie of great intimacy and mystery." – Film Comment

"Deeply moving. An experience rich with atmosphere and humanity." – The Film Stage
USA
•
2019
•
• Rated
NR
Starring
Marin Ireland, Jim Gaffigan, Josh Wiggins
Events