Knoxville Horror Film Fest 2019
Directed by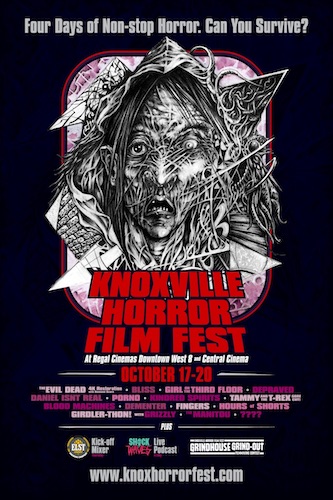 Central Cinema's flagship film festival (predating the theater by nearly a decade) returns for another weekend jam-packed with horror fun!
This year's premiere feature presentations include V.F.W., Kindred Spirits, Depraved, Bliss, Daniel Isn't Real, Girl on the Third Floor, Porno, Blood Machines, Dementer, and Fingers, plus can't-miss repertory action with the Tammy & The T-Rex "Gore Cut", a "Girdler-thon" triple feature from 70s cult filmmaker William Girdler, and Grindhouse Releasing's new 4K remaster of The Evil Dead, with a refreshed score courtesy of composer Joe LoDuca!
Our feature lineup is complemented as always by standout horror shorts from around the region and around the world, plus after-hours parties, a live Shock Waves podcast, and the films of the ninth annual Grindhouse Grind-out filmmaking contest.
A limited quantity of all-access admission packages are now on sale in the form of both a standard Festival Pass ($100) and our deluxe R.I.P. Pass ($200), which includes merch, reserved seating and free admission to every horror film shown at Central Cinema during October 2019. (Central Cinema members buying their passes in person get a 10% discount on either tier!)
KHFF11 film submissions remain open through a late deadline of September 20. The 2019 Grindhouse Grind-out shoots September 25 through October 1; registration details will be online soon, but teams may also register in person at the kickoff event at 6pm on 9/25 at Central Cinema.
Events