Jackie Brown
Directed by
Quentin Tarantino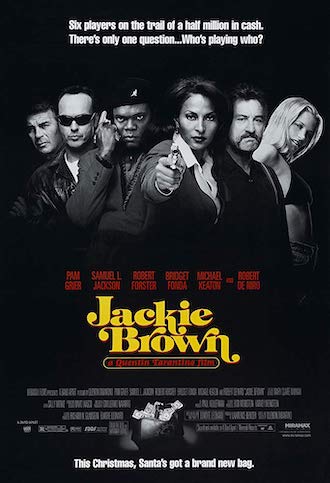 Quentin Tarantino's third film still stands alone in his filmography, letting Elmore Leonard's source material do the heavy lifting while he keys in on a pair of tender, brilliant performances from Pam Grier and Robert Forster.
Stick around for a Pam Grier Double Feature with 1973's starmaking classic Coffy on Friday 3/1 and Saturday 3/2!
"This is the movie that proves Tarantino is the real thing." – Roger Ebert
"Filled with funny, gritty Tarantino lowlife gab and a respectable body count, but what is most striking is the film's gallantry and sweetness." – Newsweek
When flight attendant Jackie Brown (Pam Grier) is busted smuggling money for her arms dealer boss, Ordell Robbie (Samuel L. Jackson), agent Ray Nicolette (Michael Keaton) and detective Mark Dargus (Michael Bowen) want her help to bring down Robbie. Facing jail time for her silence or death for her cooperation, Brown decides instead to double-cross both parties and make off with the smuggled money. Meanwhile, she enlists the help of bondsman Max Cherry (Robert Forster), a man who loves her.
USA
•
1997
•
• Rated
R
Starring
Pam Grier, Samuel L. Jackson, Robert Forster