KUBRICK: 20 YEARS ON
Full Metal Jacket
Directed by
Stanley Kubrick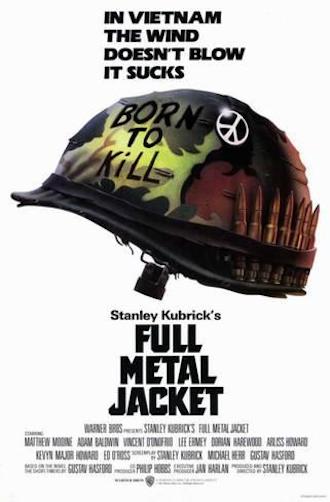 Our KUBRICK: 20 YEARS ON series wraps up with his penultimate film, a raw two-act meditation on American militarism that stands among (and yet somehow apart from) the greatest war movies ever made.
Looney Tunes short FORWARD MARCH HARE (1953) will precede all screenings.
"Full Metal Jacket, ice and wildfire, order and chaos, is intellectual war, hard thought." – Washington Post
"Harrowing, beautiful and characteristically eccentric." – Vincent Canby, New York Times
Stanley Kubrick's take on the Vietnam War follows smart-aleck Private Davis (Matthew Modine), quickly christened "Joker" by his foul-mouthed drill sergeant (R. Lee Ermey), and pudgy Private Lawrence (Vincent D'Onofrio), nicknamed "Gomer Pyle," as they endure the rigors of basic training. Though Pyle takes a frightening detour, Joker graduates to the Marine Corps and is sent to Vietnam as a journalist, covering — and eventually participating in — the bloody Battle of Hué.
UK / USA
•
1987
•
• Rated
R
Starring
Matthew Modine, R. Lee Ermey, Vincent D'Onofrio