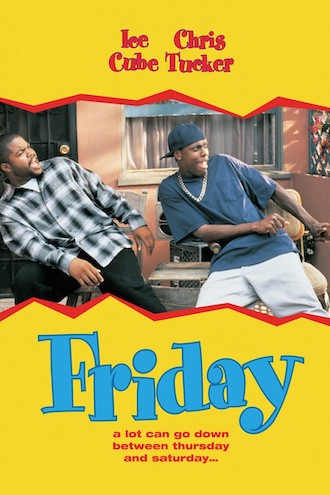 After Ice Cube made his film breakthrough in John Singleton's electrifying 1991 gang drama Boyz N The Hood, Singleton challenged the funny & charismatic rapper to write his own film. Co-written by DJ Pooh and directed by F. Gary Gray in his feature debut, Friday is in many respects a cutting response to the heavy, gang-centric films that cropped up in the aftermath of Boyz's success: instead of focusing on the mortal dangers of street life, Cube and his collaborators turned in an easygoing, endlessly quotable hangout comedy focusing on a single day in the life of one sleepy block in South Central Los Angeles. It's since become a bona fide classic, solidifying Ice Cube as a comedic lead and springboarding Chris Tucker to instant fame.
"Incredibly funny." – Washington Post
"A refreshingly lighthearted look at day-to-day life in the inner city." – Austin Chronicle
It's Friday and Craig Jones (Ice Cube) has just gotten fired for stealing cardboard boxes. To make matters worse, rent is due, he hates his overbearing girlfriend, Joi (Paula Jai Parker), and his best friend, Smokey (Chris Tucker), owes the local drug dealer money — and that's all before lunch. As the hours drag on, Jones and Smokey experience the gamut of urban life, complete with crackheads, shoot-outs and overly sexual pastors, concentrated into one single, unbelievable Friday.
USA
•
1995
• • Rated
R
Starring
Ice Cube, Chris Tucker, Nia Long