Forbidden World
Directed by
Allan Holzman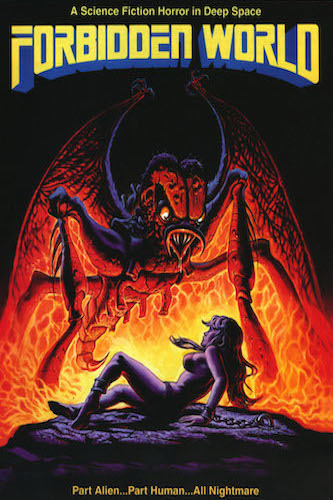 A film as immediately influential as Ridley Scott's Alien wasn't going to get by without attracting a few imitators, and we've picked two of the very best for a special double-barrel Late Show presentation: catch Forbidden World on Friday night and/or Galaxy of Terror on Saturday, by themselves or in a $15 double feature with Alien!
From our friends at AGFA:
"A guy in my crew came up to me and said 'This is a sleazy rip-off of ALIEN.' And I said "Yes, but it's the best sleazy rip-off of ALIEN ever made." — FORBIDDEN WORLD sfx artist John Carl Buechler
Oh, boy! The most joyfully exploitive Space Junk film of them all, gleefully wearing a quintessential Heavy Metal magazine aesthetic on its sleeve. A badass space cowboy joins a group of scientists, beds the Playboy Channel babes (are those clear high heels and pink jumpsuits regulation?) and battles a lab-made monster with super-saliva that reduces its prey to throbbing gristle.
Longtime Corman editor Allan Holzman (CRAZY MAMA, BATTLE BEYOND THE STARS) brought tripped-out '70s rock n' roll cutting, a healthy sense of humor and buckets of gore to this raucous directorial debut.
USA
•
1982
•
• Rated
R
Starring
Jesse Vint, Dawn Dunlap, June Chadwick