FILM PREMIERE EVENT
Flirting With Azrael: A Psychedelic Rock Musical
Directed by
Stephen Zimmerman and Douglas McDaniel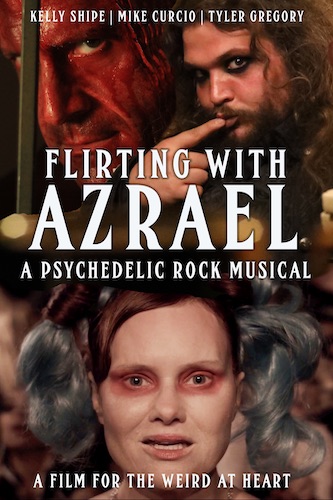 Join us for this exclusive Knoxville premiere of the locally produced horror-fantasy musical Flirting With Azrael!
Based on Knoxville music producer John Tod Baker's 2015 concept album, Flirting with Azrael: A Psychedelic Rock Musical is a film about Rabi Xaler, a woman abused and tormented by her alcoholic and adulterous husband, JD. Rabi takes matters into her own hands and murders him, but unsatisfied with the manner in which he dies, finds a re-animation clinic run by Azrael, the angel of death, so that she can bring him back to life in order to kill him over and over again, until she is satisfied, so that he may finally feel her pain.
Written and directed by Stephen Zimmerman and Douglas McDaniel, Knoxville's own Storyhaus Media produced and financed this $100k film with local investors.
USA
•
2020
•
• Rated
NR
Starring
Kelly Shipe, Mike Curcio, Tyler Gregory
Events