$5 Monthly Silent Film Series
Enjoy The Silents: Safety Last!
Directed by
Fred C. Newmeyer & Sam Taylor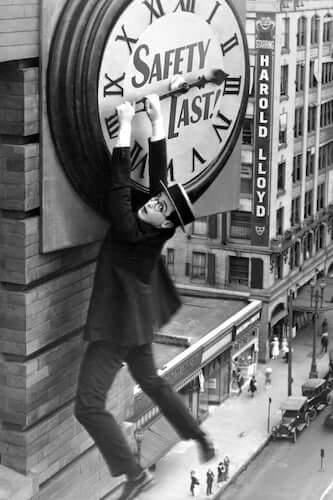 A boy (Harold Lloyd) moves to New York City to make enough money to support his loving girlfriend (Mildred Davis), but soon discovers that making it in the big city is harder than it looks. When he hears that a store manager will pay $1,000 to anyone who can draw people to his store, he convinces his friend, the "human fly," (Bill Strother) to climb the building and split the profit with him. But when his pal gets in trouble with the law, he must complete the crazy stunt on his own.
In celebration of International Silent Film Day, this month's Enjoy The Silents presents Harold Lloyd's iconic comedy.
"Harold Lloyd manages to make the characters sympathetic enough to carry the audience's concern on his journey of crazy stunts and mishaps. One of the best of this era." – Empire Magazine
English Intertitles
•
1923
•
•
NR-GA
Showtimes