KUBRICK: 20 YEARS ON
Dr. Strangelove
Directed by
Stanley Kubrick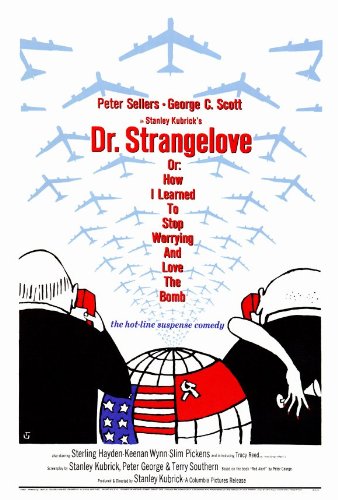 Our KUBRICK: 20 YEARS ON series wraps up with the AFI's #3 comedy of all time, a perfect satire and one of the darkest, funniest films ever made.
Looney Tunes short FORWARD MARCH HARE (1953) will precede all screenings.
"This landmark movie's madcap humor and terrifying suspense remain undiminished by time." – Chicago Tribune
"Perhaps Kubrick's most perfectly realised film, simply because his cynical vision of the progress of technology and human stupidity is wedded with comedy." – Time Out
A film about what could happen if the wrong person pushed the wrong button — and it played the situation for laughs. U.S. Air Force General Jack Ripper goes completely insane, and sends his bomber wing to destroy the U.S.S.R. He thinks that the communists are conspiring to pollute the "precious bodily fluids" of the American people.
US / UK
•
1964
•
• Rated
PG
Starring
Peter Sellers, George C. Scott, Sterling Hayden