Dragged Across Concrete
Directed by
S. Craig Zahler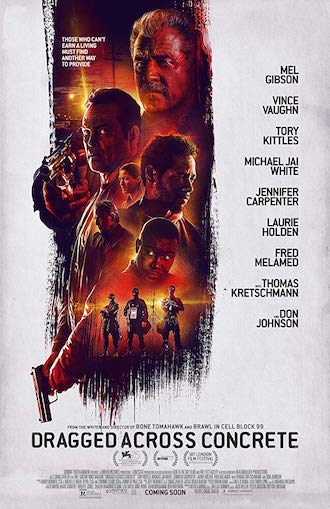 S. Craig Zahler's first two features, Bone Tomahawk and Brawl In Cell Block 99, announced a new heavyweight in pulp cinema… and we're assured his dirty-cop epic is every bit as brutal and breathtaking.
"Inventive and nasty, with an unflinching eye for violence." – The Guardian
Two police detectives find themselves suspended when a video of their strong-arm tactics is leaked to the media. With little money and no options, the embittered policemen descend into the criminal underworld and find more than they wanted waiting in the shadows.
"Few filmmakers come to mind who could orchestrate these slow-burning set pieces with such precision; it's like watching a chess game in which everyone thinks they're a king but most of them are pawns." – IndieWire
USA
•
2019
•
• Rated
R
Starring
Jennifer Carpenter, Mel Gibson, Vince Vaughan