Creepshow
Directed by
George Romero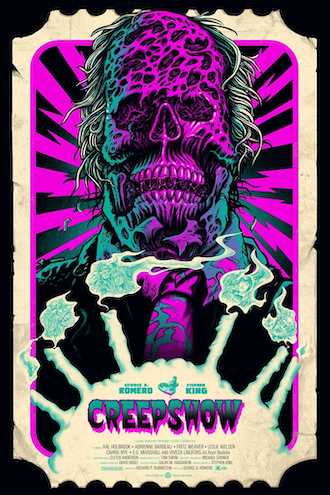 SPECIAL BENEFIT ENGAGEMENT!
The original "masters of horror" teamup, CREEPSHOW puts George Romero at the helm of Stephen King's debut screenplay (and film role!) for a fan-favorite anthology grab bag of chilling, cheeky tales.
Central Cinema is proud to present this oft-requested film as a special benefit for our friends April & Jami, an Oak Ridge couple raising money to complete their long, expensive journey towards motherhood. (You can contribute directly via their GoFundMe page if you like.)
Writer for horror notables like Rue Morgue magazine and the Tales From Beyond The Pale audio dramas, April Snellings has been a longtime friend/sometime judge of our Knoxville Horror Film Fest. As part of the benefit, April will be signing copies of her newest book Ghoulish: The Art Of Gary Pullin before the 7:30pm screening on Friday 4/5!
A compendium of five short but terrifying tales contained within a single full-length feature, this film conjures scares from traditional bogeymen and portents of doom. In one story, a monster escapes from its holding cell. Another focuses on a husband (Leslie Nielsen) with a creative way of getting back at his cheating wife. Other stories concern a rural man (Stephen King) and a visitor from outer space, and a homeowner (E.G. Marshall) with huge bug problems and a boozing corpse.
USA
•
1982
•
• Rated
R
Starring
Hal Holbrook, Leslie Nielsen, Adrienne Barbeau