Martial Arts Theatre
Come Drink With Me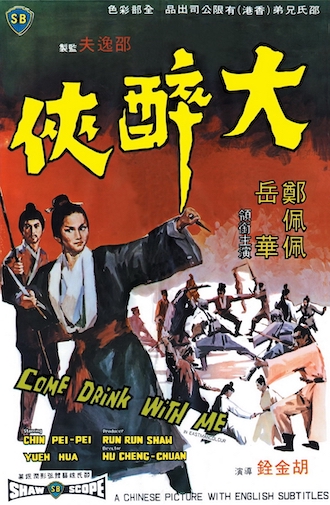 Considered a wuxia classic and one of the most important films to ever come out of Hong Kong, the lyrical Come Drink With Me made a martial arts star out of ballet dancer Cheng Pei-pei.
Presented as the Women's History Month entry in our Martial Arts Theatre series, the feature presentation (8pm) will be preceded by an extended trailer reel (7:00pm).
"Marries Shaw Brothers production values with a story that's full of sophistication and feeling, rather than just obligatory strands connecting the fight sequences." – The AV Club
In ancient China, a violent gang kidnap a general's son to secure the release of their leader from prison. Little do they know that the general's daughter is Golden Swallow, a mistress of disguise, with fighting skills to match.
Hong Kong
•
1966
•
• Rated
NR
Starring
Pei-Pei Cheng, Hua Yueh, Chih-Ching Yang