Catacombs & Comedians
Directed by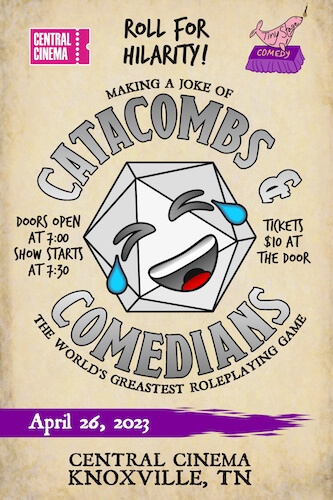 $10 AT THE DOOR
Roll for hilarity! Stand-up comedy crosses swords with Dungeons & Dragons and myth meets mirth. Join an amusing adventuring party of intrepid comedians as they explore a realm both fanciful and funny while playing the world's greatest role-playing game live on stage. With a show called Catacombs & Comedians, it's bound to get weird.
Creator and Dungeon Master Dan Taylor's first Knoxville campaign will feature notable local comics Rowan Young, Liz Brooks, Jeff Blank, Keith Marcell, and Joanna Brooker.
Third-Party Event Notice: this screening or performance is presented by an outside organization using Central Cinema as a venue for hire. Questions regarding content, ticketing and other event-specific information should be directed to the organizers.
Showtimes