LIVE! Catacombs & Comedians
Directed by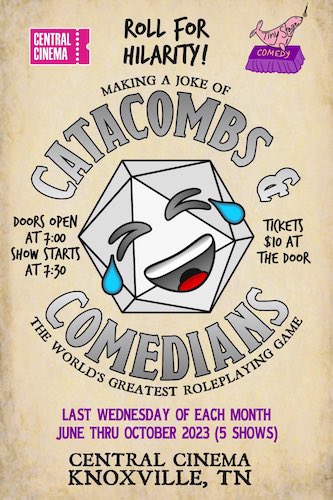 DOORS 7pm, $10 COVER
Roll for hilarity! Stand-up comedy crosses swords with Dungeons & Dragons and myth meets mirth. Join an amusing adventuring party of intrepid comedians as they explore a realm both fanciful and funny while playing the world's greatest role-playing game live on stage. With a show called Catacombs & Comedians, it's bound to get weird.
Nashville-based creator and Dungeon Master Dan Taylor returns as some of Knoxville and Johnson City's finest comics (Brandi Augustus, Rowan Young, Hunter Roberts and Mason Guidry) get down to some truly fantastic business!
Third-Party Event Notice: this screening or performance is presented by an outside organization using Central Cinema as a venue for hire. Questions regarding content, ticketing and other event-specific information should be directed to the organizers.
Showtimes