Knoxville Horror Film Fest presents
Bloody Valentine Bash Double Feature
Directed by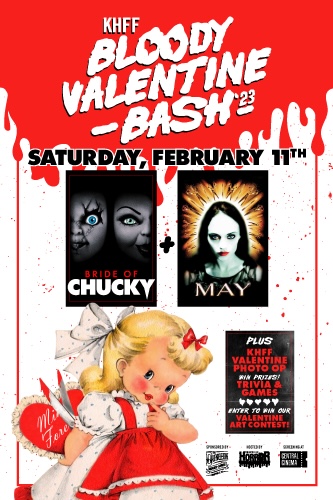 KHFF's Bloody Valentine Bash returns for another swooning night of romantic horror! This year's double feature includes 1998's CHILD'S PLAY revival BRIDE OF CHUCKY and Lucky McKee's 2002 debut MAY, plus trivia & prizes, a holiday photo op and a Valentine art contest (more info TBA!)
BRIDE OF CHUCKY – After being cut apart by the police, killer doll Chucky (Brad Dourif) is resurrected by Tiffany (Jennifer Tilly), an ex-girlfriend of the serial murderer whose soul is inside the toy. Following an argument, Chucky kills Tiffany and transfers her soul into a bride doll. To find the magical amulet that can restore them both to human form, Chucky and Tiffany arrange to be driven to New Jersey by Jesse (Nick Stabile) and Jade (Katherine Heigl), who are unaware that their cargo is alive.
"This fourth entry in the killer doll franchise is by far and away the best, a surprisingly affecting tale of pint-sized love and dismemberment that's remarkably well-done." – Austin Chronicle
MAY – Young misfit May (Angela Bettis) endured a difficult childhood because of her lazy eye. And though contact lenses have helped May adjust as a young adult, her deep-seated awkwardness remains a problem. Adam (Jeremy Sisto), a young man obsessed with fixing wrecked cars, takes a shine to May's oddball ways. But May's strangeness ultimately drives him away, leaving her open to the advances of her co-worker Polly (Anna Faris). When Polly dumps her too, May's emotional instability turns violent.
"A horror film and something more and deeper, something disturbing and oddly moving." – Roger Ebert
Showtimes