Blank Newspaper + Raven Records & Rarities present
Blaze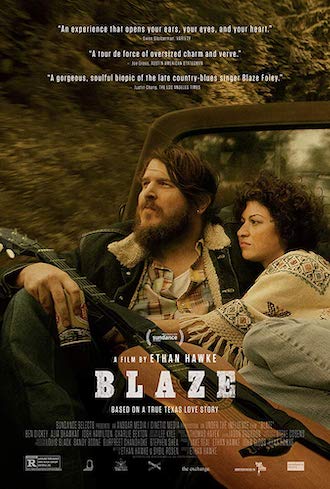 Named Blank Newspaper's #1 film of 2018, Ethan Hawke's vulnerable, overlooked portrait of Texas country musician Blaze Foley returns to Knoxville for a special Oscar weekend engagement presented by Blank and Raven Records & Rarities.
"The best music biopic of the year." – Rolling Stone
Blaze is inspired by the life of Blaze Foley, the unsung songwriting legend of the Texas outlaw music movement that spawned the likes of Merle Haggard and Willie Nelson. The film weaves together three different periods of time, braiding re-imagined versions of Blaze's past, present and future. The different strands explore his love affair with Sybil Rosen; his last, dark night on earth; and the impact of his songs and his death had on his fans, friends, and foes.
"Blaze feels like a true passion project, an engine running on Hawke's endless supply of enthusiasm for his subject." – AV Club
USA
•
2018
•
• Rated
R
Starring
Ben Dickey, Alia Shawkat, Charlie Sexton