Audition
Directed by
Takashi Miike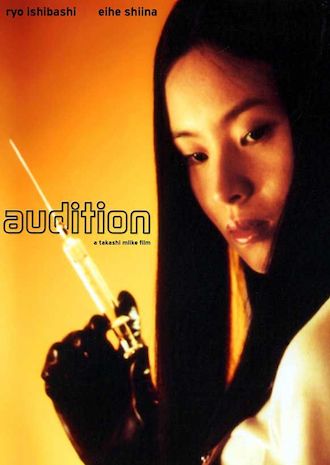 We like to think our True Romance selection is pretty on-brand, but if your tastes run even darker we've got a very different sort love story you won't want to miss: Takashi Miike's infamous tale of an ill-fated courtship, celebrating its 20th anniversary as a boundary-pushing horror classic.
"A lethally poised Venus flytrap of a movie." – Village Voice
This disturbing Japanese thriller follows Aoyama (Ryo Ishibashi), a widower who decides to start dating again. Aided by a film-producer friend (Jun Kunimura), Aoyama uses auditions for a fake production to function as a dating service. When Aoyama becomes intrigued by the withdrawn, gorgeous Asami (Eihi Shiina), they begin a relationship. However, he begins to realize that Asami isn't as reserved as she appears to be, leading to gradually increased tension and a harrowing climax.
"A great, sick rush with a kicker on the level of The Vanishing." – The New York Times
Japan
•
1999
•
• Rated
R
Starring
Ryo Ishibashi, Eihi Shiina, Tetsu Sawaki |