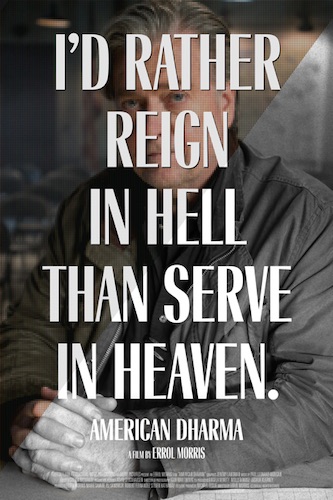 Central Cinema is thrilled to present Errol Morris' controversial, long delayed documentary, which trains his probing lens on right-wing kingmaker Steve Bannon.
American Dharma opens Friday, December 6; more showtimes will be added as they are finalized.
No stranger to sitting down with some of the most controversial figures of our time, Errol Morris trains his lens on Stephen K. Bannon. In their wide ranging conversation spanning over 16 hours, Morris questions Bannon on his background, belief system, his worldview, his current feelings on President Trump, and how films such as Henry King's Twelve O Clock High, John Ford's The Searchers, and Orson Welles' Chimes At Midnight became part of Bannon's understanding of the world. Frank and unflinching, Morris grapples with his own contention of Bannon's ideology and methodology. With American Dharma, Morris proposes that even for those who disagree with Bannon, ignoring him is a dangerous course of action.
USA
•
2019
•
• Rated
R
Starring
Steve Bannon, Errol Morris
Events