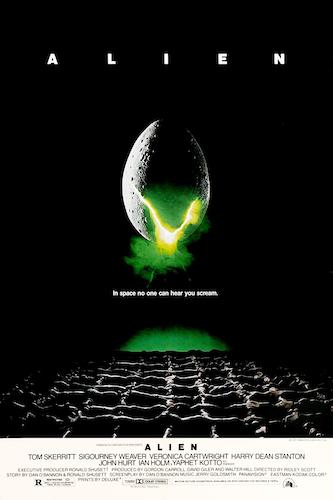 Join us as we celebrate the 40th anniversary of Ridley Scott's visionary horror film, unquestionably among the scariest ever made.
Central Cinema is also offering a special Late Show "Double Barrel Double Feature" option, presenting famed Alien ripoffs Forbidden World (Friday) and Galaxy of Terror (Saturday) following the evening screenings of Alien. Pick a double feature for just $15 total!
In deep space, the crew of the commercial starship Nostromo is awakened from their cryo-sleep capsules halfway through their journey home to investigate a distress call from an alien vessel. The terror begins when the crew encounters a nest of eggs inside the alien ship. An organism from inside an egg leaps out and attaches itself to one of the crew, causing him to fall into a coma.
"After 40 years, this sci-fi horror masterpiece still feels lethally contemporary." – The Guardian

"Alien will upset your mind and upset your stomach." – Atlanta Journal-Constitution
USA / UK
•
1979
•
• Rated
R
Starring
Sigourney Weaver, Tom Skerritt, John Hurt