An Evening With Jack Sholder
A Nightmare On Elm Street 2: Freddy's Revenge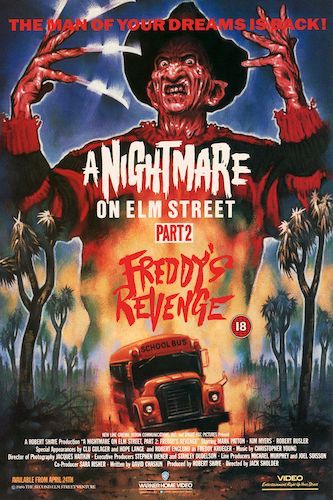 Central Cinema is thrilled to present a trio of 80s genre favorites from genre director Jack Sholder, who'll be in attendance to present and answer questions as we triple-feature  Alone In The Dark, The Hidden and Nightmare On Elm Street 2: Freddy's Revenge on Saturday, June 29; for discounted triple-feature tickets please visit the Eventbrite page.
In addition to serving as the finale of  Saturday's Jack Sholder triple feature, Nightmare On Elm Street 2 will also screen as part of our Friday night "Late Show" slot as well as an afternoon encore Sunday night (director not in attendance Friday & Sunday).
Jesse Walsh (Mark Patton) moves with his family into the home of the lone survivor from a series of attacks by dream-stalking monster Freddy Krueger (Robert Englund). There, Jesse is bedeviled by nightmares and inexplicably violent impulses. It turns out Freddy needs a host body to carry out his gruesome vendetta against the youth of Springwood, Ohio. While Freddy gains influence, Jesse and his girlfriend, Lisa (Kim Myers), race against the clock trying to figure out what's going on.
USA
•
1985
•
• Rated
R
Starring
Robert Englund, Mark Patton, Kim Myers