KUBRICK: 20 YEARS ON
A Clockwork Orange
Directed by
Stanley Kubrick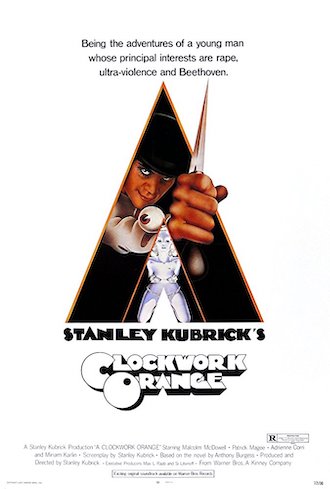 Our KUBRICK: 20 YEARS ON series spotlights his most confrontational work, which has challenged and fascinated audiences since its release in in 1971. Looney Tunes short THE RABBIT OF SEVILLE (1950) will precede all screenings.
"A mind shattering experience with its exaggerated violence and outrageous vulgarity." – New York Daily News
In an England of the future, Alex (Malcolm McDowell) and his "Droogs" spend their nights getting high at the Korova Milkbar before embarking on "a little of the old ultraviolence," while jauntily warbling "Singin' in the Rain." After he's jailed for bludgeoning the Cat Lady to death, Alex submits to behavior modification technique to earn his freedom; he's conditioned to abhor violence. Returned to the world defenseless, Alex becomes the victim of his prior victims.
"Kubrick's contributions are his wit and his eye. The wit, too much at times, is as biting as in Dr. Strangelove, and the production, while of another order, is as spectacular as in 2001." – Gene Siskel
UK
•
1971
•
• Rated
R
Starring
Malcolm McDowell, Patrick Magee, Michael Bates