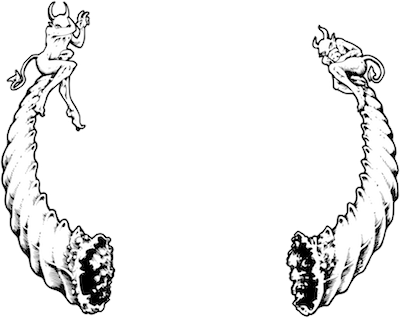 September 10, 2019
Grindhouse Grind-out registration & details are live!

Now entering its ninth year as Knoxville's wildest filmmaking competition, the KHFF Grindhouse Grind-out gives teams of local filmmakers six days and sixty-six minutes to produce an exploitation-style short film or trailer from a list of genres both real or imaginary! This year's competition shoots from Wednesday, September 25 to Tuesday, October 1… to find out more and pre-register your team for just $40, visit the Grindhouse Grind-out 2019 page!
---
September 1, 2019
KHFF Festival Passes now on sale, plus more details!
The Knoxville Horror Film Fest returns October 17-20, 2019 for its eleventh annual weekend of movie madness, using Central Cinema (1205 North Central St) as its home base and expanding to Regal Cinemas Downtown West 8 (1640 Downtown West Blvd) for a full day of screenings on Saturday.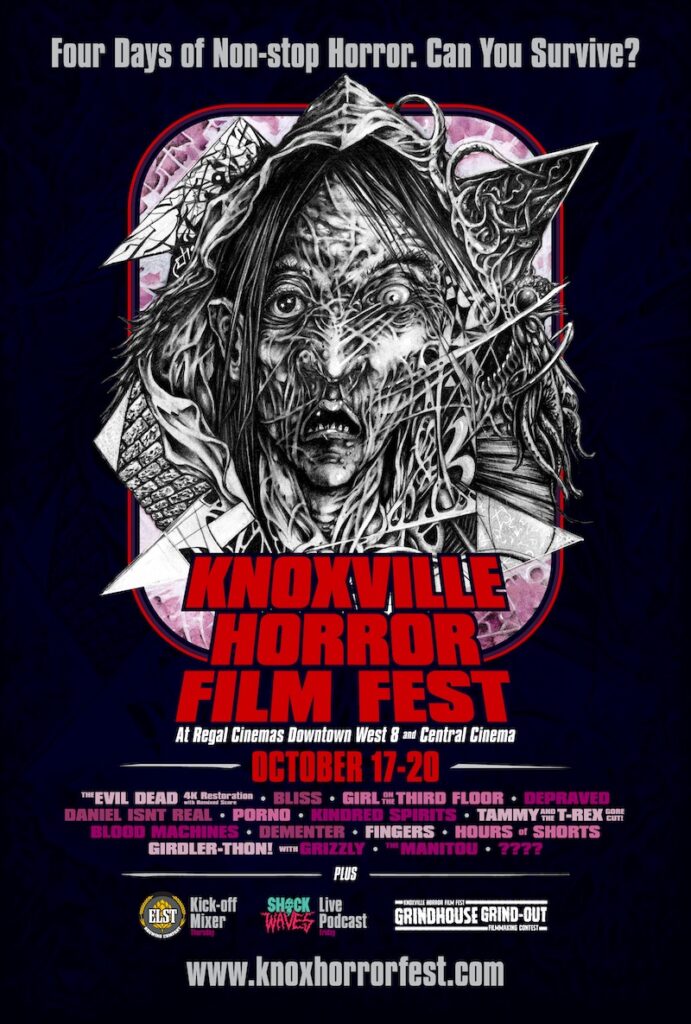 We've got a whole lot of new info waiting for you below, but in case you don't need any extra convincing, here's the skinny: a limited number of KHFF Festival Passes are now on sale, offering guaranteed access to all KHFF 2019 events and selling for just $100 through the end of September. (Local horror fans are also invited to take advantage of our $200 "R.I.P." Pass, which includes free admission to Central Cinema horror movie screenings throughout October, while Central Cinema members are invited to save 10% on either pass when purchasing at our concession stand.)

Daily passes & advance Grindhouse Grind-out tickets will go on sale October 1, and admission to individual screenings will be available during the festival as space allows. But remember: most of the action happens in Central Cinema's cozy 98-seat auditorium, so if you want in on all the action you gotta act now!
Here's some motivation: in addition to previously-announced feature presentations Kindred Spirits, Depraved, Bliss, Daniel Isn't Real, Girl on the Third Floor and Porno, we've just announced Fangoria's action-packed bloodbath V.F.W., the Carpenter Brut-soundtracked space opera Blood Machines, Chad Crawford Kinkle's Jug Face followup Dementer, and cult sure-shot Fingers, starring KHFF 2018 award-winner Taylor Zaudtke and the Greasy Strangler himself, Michael St. Michaels.
And joining the R-rated "Gore Cut" of Tammy & The T-Rex on the repertory side will be Thursday night's Elric Kane-induced "Girdler-thon" extravaganza (celebrating B-movie filmmaker William Girdler with a triple feature of 1978's The Manitou, 1976's Grizzly and a surprise 16mm screening) plus Saturday evening's centerpiece screening of Grindhouse Releasing's new 4K restoration of The Evil Dead, complete with a new 5.1 surround mix and all new score from original composer Joe LoDuca!

These feature presentations will be complemented by an extensive short film competition, featuring local productions alongside a selection of the year's best touring horror shorts. (Submissions for both categories remain open through a late deadline of September 20.) The weekend also features a number of parties and special events, including an opening reception at Elst Brewing Company's brand new taproom, a live Shock Waves podcast, the debut of a KHFF beer collaboration with neighborhood brewmasters Elkmont Exchange, and the cursed fruits of the ninth annual KHFF Grindhouse Grind-out filmmaking contest, which gives teams of local filmmakers six days and sixty-six minutes to produce a trailer or short in an ultra-specific genre chosen draft-style at the competition kickoff. (This year's kickoff event begins at 6pm on Wednesday, September 25 at Central Cinema; teams can register online (link coming soon) or in person for $40.)
Stay tuned for more information, including at least one more feature addition, the short film lineup and our 2019 schedule… in the meantime check out some trailers for this year's films, and we'll see you soon!
---
August 9, 2019
Second Wave of KHFF 2019 features announced!
We weren't expecting to be able to follow up so quickly, but here we are with three terrific additions to this year's KHFF feature slate! This batch includes the latest work from two indie horror lifers, with Lucky McKee's slow-burn chiller Kindred Spirits and Larry Fessenden's Brooklynite Frankenstein update Depraved. But we're somehow even more excited for the supreme oddity that is the "Gore Cut" of the 1994 Denise Richards cheapie Tammy And The T-Rex, which transforms the film's innocuous straight-to-video banality into an aggressively strange, over-the-top experience guaranteed to become a new cult classic.
---
July 28, 2019
First wave of KHFF 2019 features announced!
The Knoxville Horror Film Fest returns October 17-20, 2019 for its eleventh annual weekend of movie madness at Knoxville's Central Cinema and beyond! This year's festival will build on 2018's newly expanded format, offering KHFF's signature mix of premiere indie horror features, underseen treasures, and top-notch short films from across the region and around the world.
The first wave of feature announcements for this year's festival includes the "hallucinatory hellscape" of Bliss, the latest adrenaline rush from low-budget auteur Joe Begos; razor-sharp haunter Girl On The Third Floor, the writing/directing debut of notable genre film producer Travis Stevens; Keola Racela's uproarious satanic sex-ed gorefest Porno; and Adam Egypt Mortimer's imaginary-friend-gone-wrong thriller Daniel Isn't Real, starring Patrick Schwarzenegger.
Please pardon this temporary landing page; we're doing our best to overhaul the KHFF website prior to this year's festival. If you'd like to browse previous years' festivals on the old site please click here.